This week, Samsung announced a gigantic 18.5 inch tablet called the Galaxy View. With phones getting bigger and bigger, consumers must choose when to draw the line between a phone and a tablet. For example, I'm not so sure that I'd call a seven inch phone like the Blu Studio 7.0 LTE a phone. Rather, I would call it a tablet capable of making phone calls! 
Pictured: Blu Studio 7.0
Instead of calling Samsung's new tablet a tablet, I would call it a portable TV…but better! Here are my thoughts on the Samsung Galaxy View.

Specifications:
Samsung's biggest tablet packs an 18.5 inch full 1080p display, 32/64gb of expandable storage, a 1.6ghz octa core processor and 2gb of ram. These specifications aren't bad, but they are inferior to devices aimed at power users. Even the Galaxy Note 5 surpasses the View in terms of power.
Software:
Believe it or not, the View can do anything that any other Android tablet can do…just bigger. That means you can browse the web, send emails, play games, etc.
I personally can't imagine comfortably fulfilling these tasks on a form factor such as that found on the View. If one connects a wireless keyboard and mouse, the View can simulate the experience of the all-in-one desktop form factor. It will be interesting to see how Android compensates for such an increase in screen size. With Android, the streaming possibilities are endless. Between YouTube, Netflix, cable provider apps and the countless TV channel 'on demand' apps, there will always be something to watch on your Galaxy View.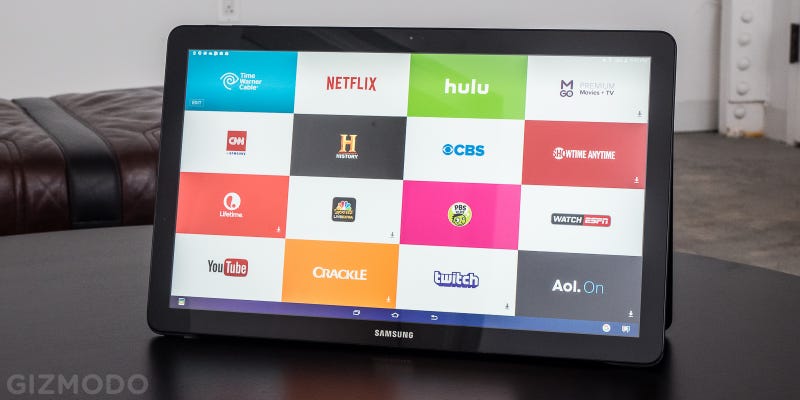 What It's Good For:
There are specific situations where the View is the perfect device. My best description of the View is a portable smart TV. Portability in a TV can be a selling feature for certain users. For example, this would be a great device for streaming media in your kitchen, while cooking, for example. Or, a traveler can bring the View to their hotel room and use it as a TV on the go (although few hotel rooms come without a TV these days.) Traveling families can use the View as an in-car TV for the kids…you get the idea. The tablet will also come with an LTE band, therefore you can stream video on the go over your cellular network. If you don't want to drain your data, there is also expandable memory through microSD, so you can download and store your content ahead of time. With the proper adapters, techies can use the View as a second display. In my opinion, it wouldn't be prudent to buy the View only to use it as a second display, as there are larger, full HD monitors available for less than the View and adapters can be an inconvenience to use. This is not to understate and say the View is only a display: it really is a full fledged Android tablet! For $599, the View is not a bad deal. It's a little heavy at five pounds, but the handle should make it easier to carry and the kickstand should make it easier to display on a surface.
Final Thoughts:
Assuming performance and battery life are adequate, the View can be a good device to have around the house. The more thought I put into the topic, the more ideas I come up with for times when the View is the perfect device. Although some monitors go for less than $600, these are not portable and cannot be used without an attached device. The View has a dedicated battery, speakers, a built in kickstand and of course runs its own software. Like all technology, usability and value is majorly dependent on the consumer's needs. If I had one word to describe the Galaxy View, it would be 'cool'. This is a new form factor in the world of Android and it will be interesting to see how it performs during actual usage.
Feel free to leave your opinions on the Galaxy View in the comments. You can also follow us on Twitter @amcoffeetech and email me at john@morningcoffeetech.com. As always, thank you so much for reading and we'll see you in the next post!
Images Courtesy:
bestphonemart.com
theverge.com
androidauthority.com
gizmodo.com